Master's Degree specialized in Land Management and Local Development (LMLD)
Planning and development of the Pacific Island territories of Vanuatu (ADTO-Van)
Objectives
This master's degree aims to train executives to the new challenges of territories and their dynamics in the areas of planning, management and development of island territories in a multicultural context with a focus on tropical environments in Oceania and more specifically on New Caledonia and Vanuatu.

The ADTO Master, adapted and contextualized for Vanuatu in a bilingual French / English Master's degree (ADTO-Van), allows to acquire cross-functional skills in the fields of spatial planning and development, management of natural environments, developed and / or protected or fragile areas.


Strengths
Graduates will have a double competence (design and implementation of projects) and will be able to analyze territorial and environmental issues as well as those of inter-island transport, local development in their various components (understanding of physical phenomena, economic, social, territorial, legal and political impacts ...) using the large islands of the six provinces of the archipelago of the Republic of Vanuatu as application areas.


Schooling
The teachings take place in Port Vila and are spread over 4 semesters. They are provided by lecturer-researchers from the University of New Caledonia and other French universities, but also by teachers and local speakers from Vanuatu.

Access
This bilingual master is open to initial (FI) and continuing (CF) training.

→ In initial training :
The ADTO-Van Master focuses on students from the L3 in Humanities and Social Sciences (SHS), with a degree in geography, economics, AES or any other degree deemed equivalent. The master also welcomes students holding foreign diplomas of higher level or equal to Bac + 3 (on file after favorable opinion of the pedagogical commission).

→ In on-going courses :
It is aimed primarily at professionals holding a Bac + 3 diploma who have worked for at least three years in one of the training activity sectors. It will also give Vanuatu civil servants and those in the private sector a Bac + 5 diploma course to increase their skills and access professional upgrading. This training thus offers the possibility of obtaining independent academic certifications that can be capitalized for the obtaining of a master's degree.

Registration
The registration file must include the following documents:

            - A cover letter

            - The certified copy of the diploma obtained (+ transcripts L1, L2, L3)

            - A copy of birth certificate

            - A certificate from the employer justifying the seniority (for the CF) 
Master 1

Semester 1
UE 1
 

Territorial Development (60 HETD)


Local and global development

Territorial development

Island territories and specificities

UE 2

Territorial development (100 HETD)


Actors, Policies and Institutions

Developed spaces

Littorals and environment

UE 3

Outils de diagnostic et de gestion (100 HETD)

Démographie et développement
Outils juridiques
Approches participatives et enquêtes
Collecte et traitement des données quantitatives
Cartographie numériques

Semestre 2
UE 4

Outils de communication et bases de données (70 HETD)

SIG et analyse spatiale
Bases de données et plates formes numériques
Langues vivantes 1 et techniques
d'expression

UE 5

 Mémoire de recherche ou de stage (15 HETD)
Master 2

Semestre 3
UE 6

Développement local des territoires océaniens (100 HETD)

Spécificités des environnements océaniens
Exploitation et gestion des ressources
Approches plurielles du développement

UE 7

Gestion des territoires et retour d'expériences (80 HETD)

Conception et mise en œuvre de projets
Penser et gérer les villes – Gérer les espaces sensibles.
Gestion des espaces sensibles

UE 8

Gouvernance de l'environnement en Océanie (70 HETD)

Politiques publiques et développement
 durable
Gestion des risques - Changement climatique

Semestre 4
UE 9

Intégration d'informations spatiales et communication (50 HETD)

Télédétection et SIG
Langues vivantes 2 et techniques d'expression

UE 10

Mémoire de recherche ou de stage
(10 HETD)

Projet individuel de 5 mois + soutenance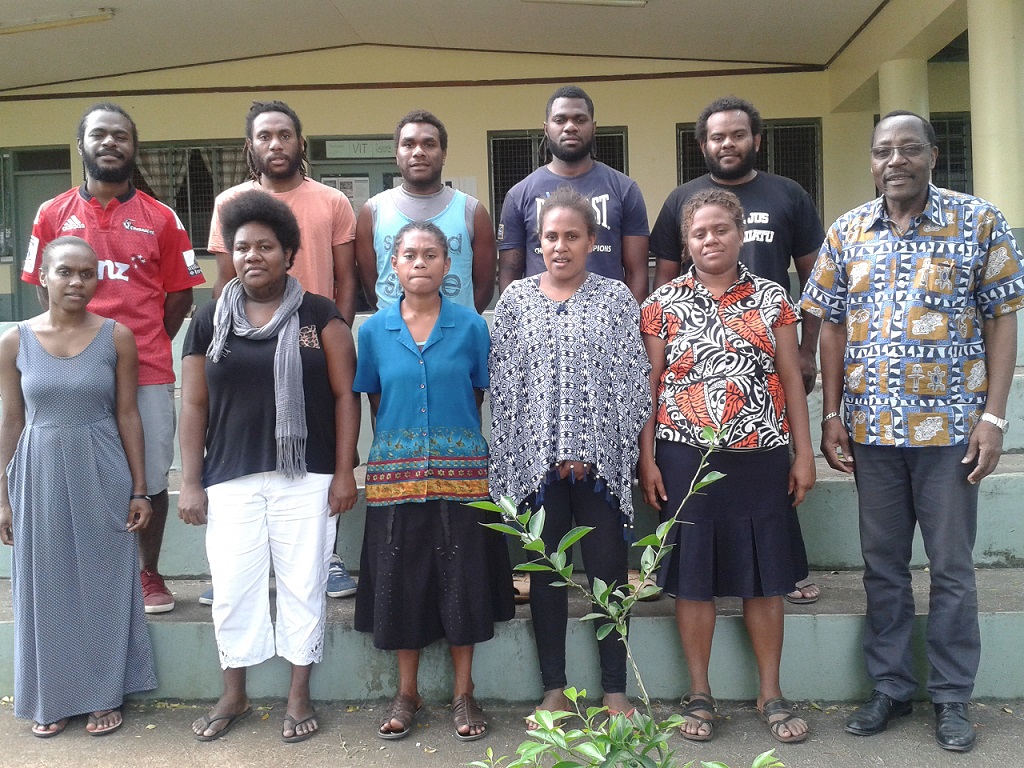 For further information, call (+678) 29792 or contact the teacher in charge:

Jean-Marie FOTSING
University Professor
University of New Caledonia
This email address is being protected from spambots. You need JavaScript enabled to view it.